Shawn Posted on July 13 2022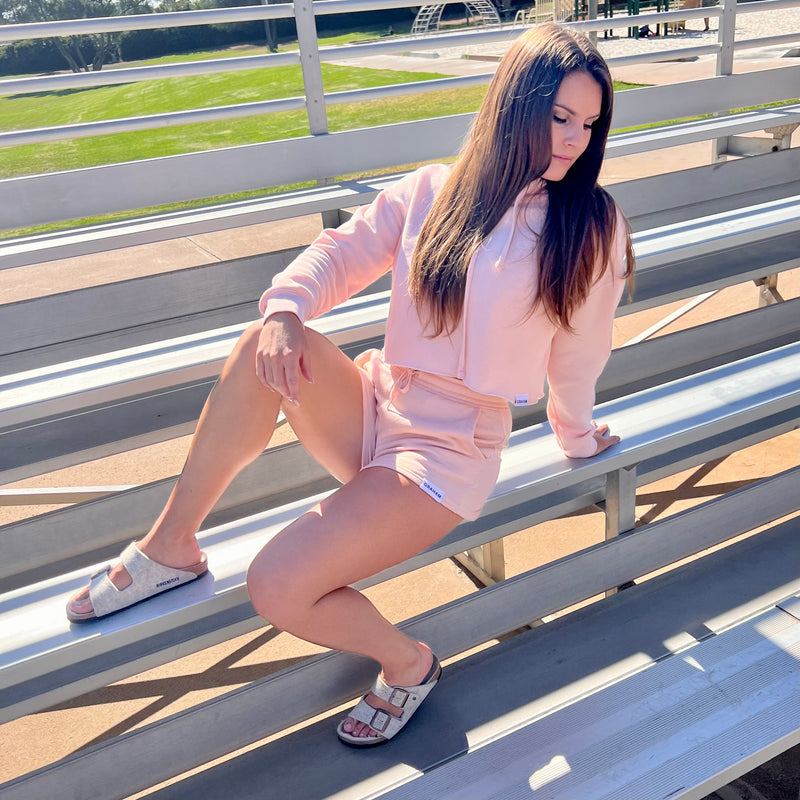 The Summer 2022 collection, launching Tomorrow July 15th, will be the biggest release since the brands launch in 2020 and has a little something for everyone.
The Summer 2022 collection features new products like tank tops for men and women, new shorts for men and women, a customer favorite color-way on our best selling women's product, the crop hoodie, and a new tie dye pattern in our mid weight crewneck sweatshirt for both men and women that is sure to give off the perfect Summer vibe. 
Before we dive into the breakdown of our new collection I wanted to briefly talk about some exciting changes that have been made recently with Clothes By Graham.
Sustainability continues to be a growing concern across the world. While we can all do our part as individuals it's important for businesses to do their part as well. Sustainability is in mind with all our products. Having quality products that are shrink and fade resistant and built to last helps prevent our items from ending up in a landfill. Which if you weren't aware, 40 million tons of textiles are sent to landfills each year, primarily clothes from fast fashion brands.
But I'm proud to announce we took things a step further. With the most up to date dye machines our products are now made with 7 times less water compared to normal clothing manufactures saving thousands of gallons of water per week. 
This is the first of many initiatives we will take on to ensure we are doing our part towards building a sustainable future and we will continue to share these efforts with you going forward.
Also, if you checkout with Shop Pay, you contribute to the Shop community's efforts to remove the carbon emissions from your order delivery.
Now let's dive into our Summer collection!
Tank Tops
We are excited to introduce a new signature blend into our tank tops. Made of 50% polyester, 25% superior combed and ring-spun cotton 25% rayon these tank tops have it all. Comfort, shrink and fade resistance, and the durability to hold up during the toughest of workouts and longest of beach days. Coming out for both men and women in Blue, Grey, Charcoal Black, and Oatmeal. 
Mens Hoochie Daddy Shorts
Welcome your thighs to Summer boys. These short shorts are made of 100% combed ring-spun cotton and weigh less than 4 ounces. pre-shrunk to minimize shrinking and 2 side and 2 back pockets you will look good, feel good, and be prepared for anything Summer throws at you in these shorts. Offered in Black, Mauve, Yellow, and Carolina Blue.
Women's Shorts
With our mens sweat shorts becoming an instant favorite we knew we needed a women's version. Introducing our women's shorts. Our women's shorts are super soft, casual, and extremely comfortable. The unique fabric is garment washed to bring you a one of a kind look and feel. Made with our premium cotton/polly blend to achieve the perfect balance of comfort and fit. Offered in Black, Sage, and blush. Pair it with our matching crop hoodies for effortless athleisure vibes this summer.
Cotton Candy Tie Dye Crop Hoody
Our cotton candy tie dye has been a customer favorite with our sweatshirts, now its available with our best selling crop hoodie to ensure you have the Summer vibes ready day or night. 
Sunset Swirl Crewneck Sweatshirt
It wouldn't be a Summer collection without introducing a new tie dye blend. The Sunset swirl crewneck sweatshirt is the perfect vibe for those Summer nights. Made with our signature cotton polly blend for supreme softness and shrink and fade resistance. The fit and comfort you've come to know and love, in a great new tie dye.