Shawn Posted on September 09 2021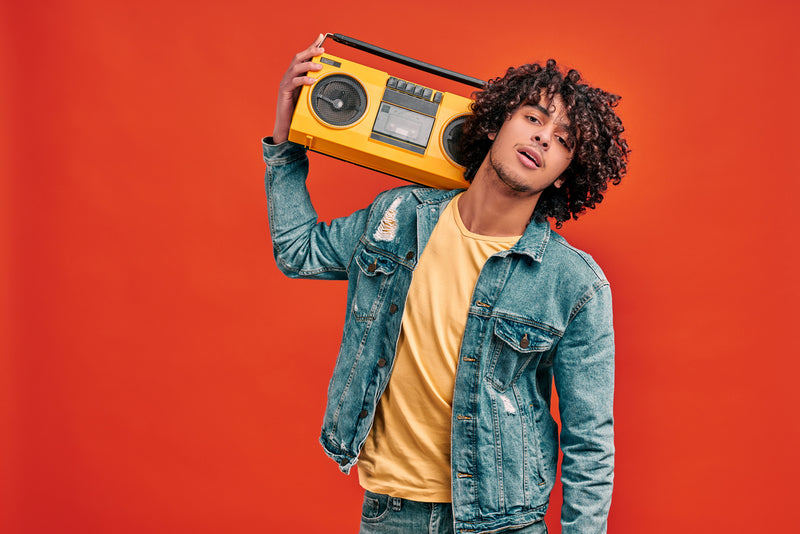 Famous Men's Fashion in the '90s
The '90s were a time that many of us remember fondly, mostly due to the decade being chock-full of cheesy fun music, movies, television, trends and fashion. Cheesy as it may have been, there were certainly some showstoppers when it came to men's fashion in the '90s - so much so that a fair amount of these fashion trends have either come back into style or simply never went away. With that in mind, let's take a look at some of the most interesting and infamous trends when it came to men's fashion in the '90s.
Tie-Dye
Let's begin with something that was more of a famous unisex fashion trend than one that was specifically aimed at men. Tie-dye is probably the most colorful fashion trend out there, made using a process involving soaking a piece of clothing, then folding it, tying it and applying a wide array of colorful dyes. Whether it's a t-shirt, a sweater, sweatpants or even a dress shirt to jazz up your semi-casual wardrobe, tie-dye is a fashion trend that exploded in the '90s for both men and women. The strong '90s aesthetic of tie-dye has led to it still being a popular fashion choice today, such as with the Men's Tie Dye Crew Neck T-Shirt from Clothes By Graham.
Oversized Flannel Shirts
Much like tie-dye, flannel is a '90s trend that has easily transcended the decades. Flannel is still a highly popular option, but it truly exploded in the '90s. The ultimate grunge and rock fashion item became a must-have in many wardrobes thanks to Kurt Cobain - the talented rock star and front man of the band Nirvana - famously wearing an oversized flannel shirt often, usually combined with Converse sneakers and tattered band shirts. The man knew a good flannel when he saw one, and his effortless grunge aesthetic clearly influenced many people in terms of style as the oversized flannel was one of the most recognizable men's fashion trends of the '90s.
The Bandana
This accessory is another one that has been in and out of fashion over the years, but the '90s was a time when it truly popped off. Infamous '90s figures such as 2Pac, Eminem, Axl Rose and Justin Timberlake made the headwear even more popular. There were various different ways to style it, too, making it a versatile '90s fashion item that is arguably one of the most defining accessories of that generation.
Overalls
Overalls are another clothing item that screams '90s fashion, and like many of the items on this list, they have made a resurgence thanks to the power of nostalgia. The one-strap-down style was a particular look made popular in men's fashion in the '90s thanks to celebrities like the boy band NSYNC and actor and music artist Will Smith, who would often don the off-the-shoulder overall style in the television series The Fresh Prince of Bel Air.
The Leather Biker Jacket
This is yet another fashion item that is very much still around today. Leather jackets have a timeless nature to them, but in the '90s, they had more of a reputation. While they are now worn universally by men, women and kids alike, if a guy wore one in the '90s, there was a certain rebellious nature that accompanied it. It was the ultimate jacket for your stereotypical bad boy who may or may not have owned a motorcycle. This guy was the type that you definitely didn't want to take home to mom. From Brad Pitt's Tyler Durden in Fight Club to Keanu Reeves's Neo in The Matrix, infamous characters and '90s icons donned the leather jacket and subsequently skyrocketed it to insane heights of popularity.
The Turtleneck
This fashion item was the antithesis to the aforementioned bad boy/brooding loner leather jacket look. A turtleneck was a somewhat preppier option, giving off the vibe of a more wholesome character. It made men look like the type your mom would definitely be happy to invite in for dinner. Boy bands tended to wear these in order to project the image of the wholesome superstar who is only a positive role model for your child, but it could also achieve an intellectual look when donned with the proper accompaniments. Whether it was worn as a warm winter sweater under a coat or as a casual piece to go with your slacks and loafers, the turtleneck was often a staple of '90s men's fashion and remains so for both men and women today.