Shawn Posted on October 13 2021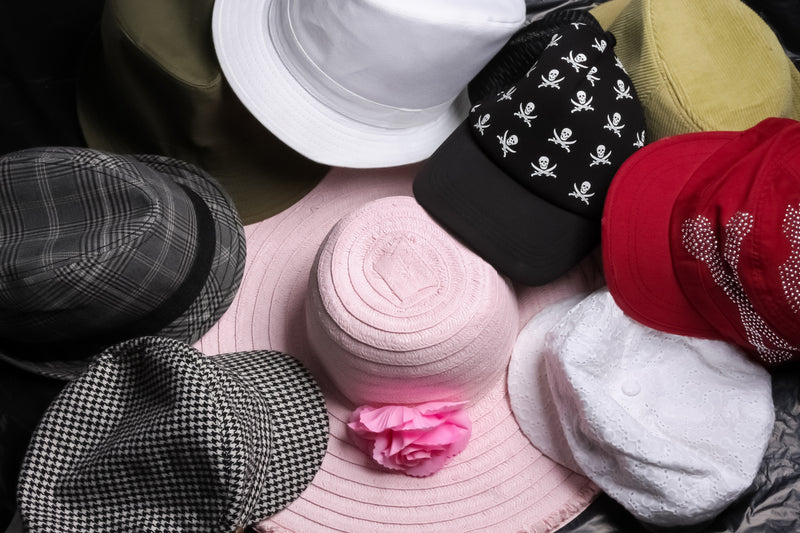 Hats Around the World: A Fashion History
Trends come and go, but there are a select number of garments and accessories that endure in individual countries around the world. As we will see, hats are often both utilitarian and culturally significant to wearers in their respective countries. So, allow us to take you on a whistle-stop journey to uncover a bit more about some of the world's most-worn hats, both now and throughout history.
The Beret
Although the beret wasn't widely produced until well into the 19th century, similarly designed hats can be traced back to the Bronze Age. Berets have been worn by many historic figures and cultural greats, but many will always view the beret as one of France's most iconic symbols.
The Kufi Cap
This close-fitting, brimless cap is commonly worn throughout East, West and North Africa. For men in West Africa, the kufi is the traditional hat and it forms part of the national costume across most countries in this region. It is also worn throughout East and North Africa by Christians and Muslims, and many men wear them to symbolize their standing as family patriarchs, religious people, or wise elders. The kufi is also worn in parts of South Asia, and it is often referred to as the tupi or topi throughout the Indian subcontinent.
Akubra or the Bush Hat
Akubra or bush hats are part of Australian culture and have been worn by everyone from heads of state to people who work on the land every day. Authentic Akubra made from felt fur are comfortable to wear in hot conditions and completely waterproof, making it ideal for wear all year round.
The Sombrero
The origins of the sombrero are decidedly utilitarian as it was designed to offer protection from the harsh Mexican sun. Technically, the word sombrero, which translates as "shade" or "shadow", can be used to refer to any hat with a brim, but many people will instantly think of mariachi bands or those celebrating Cinco de Mayo. Historically, wider sombreros and those with more intricate decorations were an indicator that the wearer had higher socioeconomic status than someone wearing a smaller, straw sombrero.
The Bowler Hat
Designed in the middle of the 19th century by William and Thomas Bowler, the bowler hat better suited groundskeepers who would frequently ride through low branches and knock off their taller top hats. The bowler hat quickly became popular in both the US and the UK among working-class men, but it wasn't long before it also became an upper-class staple.
The Baseball Cap
The rounded soft crown and rigid protruding bill of the baseball cap has become one of the most iconic and instantly recognizable American accessories. They are a core element of the traditional uniform worn by baseball players, as the peak helps to protect players' eyes from the harsh sun. Baseball caps also often have a plastic or an elastic back that allows the hat to be adjusted to fit differently sized heads and can be adorned with various designs or logos. Baseball hats are worn by many as a fashion accessory as they can be a great way to dress down a variety of looks while also offering protection from the sun.
A black baseball cap, such as this Black Dad Hat, is one of the most versatile accessories a man can have in his closet as it can be worn with everything from jeans and a t-shirt to gym gear and tracksuits.
The Panama Hat
Also sometimes referred to as a toquilla straw hat, the Panama hat is a traditional piece of Ecuadorian headwear that was originally constructed from plaited toquilla palm leaves. Breathable, incredibly lightweight and light in color, Panama hats were designed to be worn with light suits made from silk or linen during the warmer months of the year. Notably, in 2012, the art of creating the traditional Panama hat was added to the Intangible Cultural Heritage Lists compiled by UNESCO.
The Jaapi
Jaapis can be traced back to the time of Xuanzang, who was a 7th-century Chinese Buddhist monk, translator, and scholar. The jaapi is constructed from cane or bamboo that has been tightly woven into a conical shape. Plain jaapi were once often worn by farmers and citizens of Assam as a way to shield themselves from the harsh sun. More ornately decorated jaapi were worn by nobility and royalty as a symbol of their status and wealth. Today, jaapi is Assam's symbol and is often used as decoration within the home. It is also an important ceremonial object that signifies respect.