Shawn Posted on October 01 2021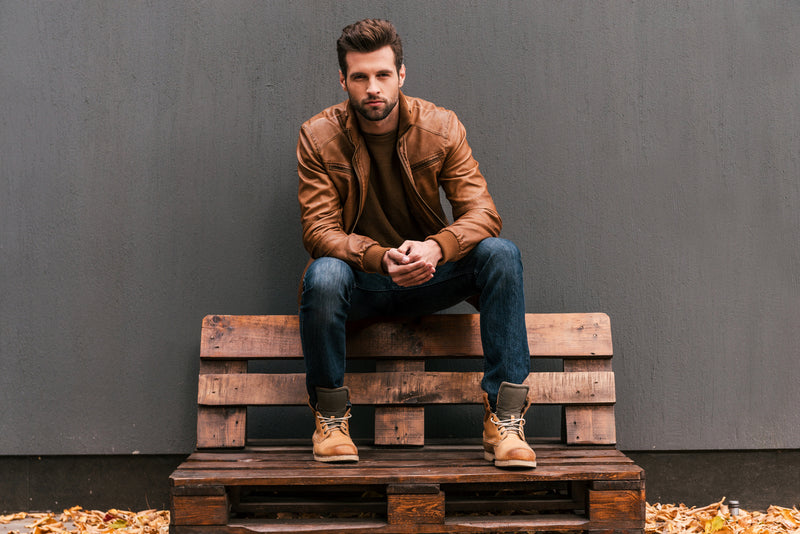 History of Men's Jackets: The Classic and the Vintage
It is thought that the first constructed and sewn pieces of outerwear were capes made from fur and designed to fit easily over the shoulders. Wooden toggles dating to between 15,000 BCE and 8,000 BCE support this supposition.
Even if we just look back a few hundred years, so much has changed in a relatively short period of time, and this can be felt in the world of men's fashion and grooming. It can be fascinating to take a step back in time to see what was fashionable during each era. It is also particularly interesting to see which styles have served as inspiration for new trends and which styles have truly stood the test of time and will look very familiar to us now.
The Chesterfield
The Chesterfield overcoat replaced the long, full-skirted silhouette of the frock coat, which quickly fell out of fashion in many circles during the Regency and Edwardian eras. They were very heavy and often extremely cumbersome, so their fall from popularity isn't really much of a surprise.
Chesterfields, on the other hand, were viewed as a much more practical and stylish option, with a much straighter, simpler cut and contrasting collar and pocket detailing. When worn with straight pants, a top hat and a cane, Chesterfields helped to create the ideal formal ensemble to suit all manner of put-together occasions.
The Suit Jacket
During the early 1900s, the single-breasted suit jacket replaced the dressier morning and frock coats worn by men during the previous century and were often worn with straight pants. Suit jackets became slimmer in the 1920s, and lighter hues replaced the classic navy, charcoal and black jackets of the previous decade.
In the 1930s, jacket shoulders became broader with shoulder pads before becoming markedly simpler in style during the 1940s. Now, suit jackets are often slim in cut, referencing both the 1920s and the 1960s but in a much more contemporary way.
The Trench Coat
The trench coat is one of the most instantly recognizable pieces of outerwear and for good reason. In addition to being rainproof, sophisticated, and practical, trench coats also have a certain air of mystery about them, which is what has cemented them as a must-have item for every put-together gentleman.
Trench coats had already become a popular garment by the late 1800s, and they are equally popular today. From soldiers in the trenches to movie stars like Humphrey Bogart, the stylishness and practicality of the trench coat really cannot be overstated.
The Peacoat
If you've got a peacoat sitting in your closet right now, you're in good company. They are one of the most popular shorter jackets and have been since the early 1600s. They originated in the Netherlands and were made from a wool cloth that effectively repelled water and made them ideal for sailors.
Peacoats were adopted by both the Royal Navy and the American Navy, which is why navy blue is viewed as a traditional peacoat color. In addition to a closure that has multiple buttons, traditional peacoats are also equipped with a variety of pockets, making them a highly practical piece of outerwear.
The Bomber Jacket
Despite being comparative newcomers to the world of menswear, bomber jackets are enduringly popular and effortlessly stylish. First rising to prominence in the 1910s, bomber and aviator jackets were adopted by various air forces around the world during the First World War.
Although bomber jackets were traditionally constructed from durable leather, they are now available in a variety of materials to suit our contemporary lifestyles. They are one of the best examples of how styles can be adapted to suit vastly different times while still retaining the essence of what made the original so special in the first place.
Now, a Green Men's Bomber Jacket can be worn with a classic White T-Shirt and black jeans for a casual yet put-together look that is suitable for everyday wear. The tapered hand and waist cuffs give a sleek and streamlined silhouette, and the iconic collar can make the right statement all by itself. This excellent layering piece is perfect for in-between seasons, and choosing a water-resistant design will ensure you're always protected from the elements, even if they are markedly milder than those faced by aviators during the wars!
It's going to be exciting to see how men's jackets continue to evolve and which trends we'll all be welcoming with open arms over the next couple of decades.