Shawn Posted on October 12 2021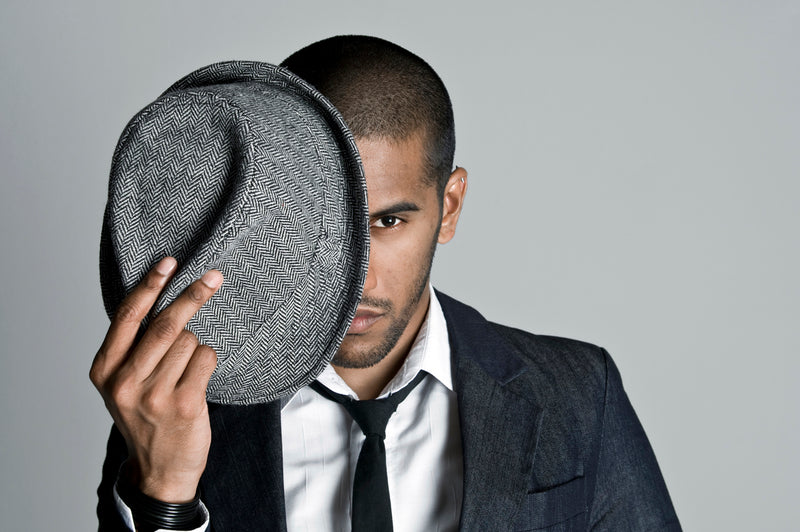 How Hats Change All Fashion Rules
Once upon a time, no man or woman of style would be seen out on the town without their hat. Over the years, hats moved from being an essential closet staple to a more practical item. In recent years, hats have been regaining their popularity. No longer just worn for practical reasons, headgear has once again become a great way to finish off an outfit and make a statement, in addition to helping keep you warm or cool. The true beauty of hats today? They can be used to well and truly bust those fashion rules. Here are five fashion myths that just don't apply when it comes to hats.
Fashion myth #1: Smart clothing demands smart accessories.
There has been a growing trend in recent years to shake things up a bit, and hats are playing a part. Designers have sent models down the catwalk wearing smart suits and a beanie. Typically considered a more casual headwear option, the beanie is showing how the rule book can be thrown out the window when it comes to hats and fashion, but you still need to exercise caution here. To team a beanie with your suit for workwear, there are still some rules you need to adopt to prevent the look from going horribly wrong. Don't pick a beanie emblazoned with big, novelty logos. Instead, opt for a beanie in a complementary color and preferably a darker shade or a classic neutral, and don't wear it too big and baggy. A traditional cuffed beanie in black, such as Black Beanie from Clothes By Graham, can often be the best option for workwear, while adding another piece of knitwear to your suit on chillier days can help the beanie seem less conspicuous.
Fashion myth #2: Baseball caps are for teenagers.
This is no longer true. Baseball caps have long been a polarizing piece of headgear. Many consider the baseball cap to be the preserve of sports fans and teenage skateboarders. But a bit like the beanie, men and women are discovering that it's how you wear it that matters. Choose an understated and minimal style of cap and wear it with classic wardrobe staples such as a jacket and chinos for a grown-up take on the current luxe minimalism trend. A grown-up, premium-looking baseball cap can even be worn with an unstructured blazer and smart pants for a sleek workwear look. Try a plain, well-fitting style of hat such as the Stone Dad Hat or look for styles made from premium fabrics such as suede or leather.
Fashion myth #3: You must wear straw hats in summer and warm, woolly hats in winter.
People are increasingly shaking up their headwear and crossing over the seasons. Think of the growing trend of wearing felt fedora hats with cute summer outfits such as denim cut-offs and vests. Caps have also become acceptable in any season. Just look for ones in thicker materials such as twill or suede.
Fashion myth #4: Bucket hats are just for spring and summer.
It may feel like bucket hats are simply for days at the beach or festivals in spring and summer. But according to what graced the 2021 runways, bucket hats are here to stay whatever the season. Bucket hats have been big news thanks to fashion's current obsession with all things nineties and noughties, and they do not seem to be going anywhere soon. Look for warmer fabrics and textures to help your bucket hat last you through fall and into winter.
Fashion myth #5: "I'm just not a hat person."
Many people feel quite self-conscious donning a hat and you may have heard on more than one occasion "I'm just not a hat person." But it is more likely that people who claim not to be hat people simply haven't found the right hat for them yet. Face shape has a big part to play in what type of hat will suit you best. Oval face shapes tend to look good in most hat styles, while round faces are best suited to hats that lend a little asymmetry, such as a baseball cap or fedora. Heart-shaped faces are well suited to beanies or berets, and square faces are well suited to a rounded hat that softens their features.
When it comes to hats, taking the time to determine what suits you will help you find styles that look good and feel great. You'll want to wear them repeatedly, whatever the season or occasion.