Shawn Posted on September 29 2021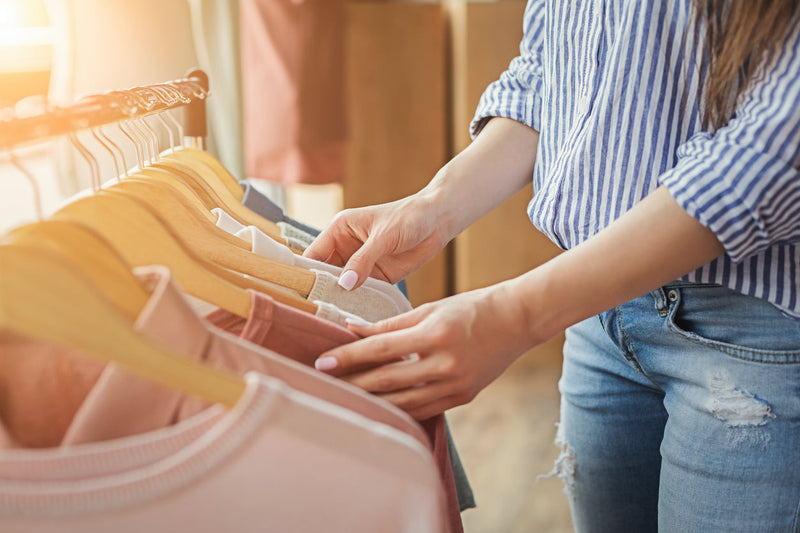 Types of Women's Tops that Are on Trend in 2023
The enthusiasm for fashion is definitely experiencing a resurgence after Covid confinements, and tops are always a popular choice when it comes to breathing new life into your wardrobe. If you want to know where your attention should be focused, however, take a look at the inspiration derived from the catwalks. When looking for your next top, think about body positivity, maximalism, vibrancy, nostalgia, and glitter. None of these will leave you far from the fashion mark. If you need some more detailed hints, let's take a look at the tops that are in fashion right now and in the months to come.
Go Dark in Double Denim
Dark double denim is a hot trend this autumn and winter, so grab yourself a denim shirt or top to go with your jeans or skirt. There are so many options to choose from that you have free reign to let your personal style shine through.
Capes and Ponchos
Both of these were big news on the catwalks and don't have to mean covering everything in huge blanket-style capes. Dainty cape-style tops can give a nod to the trend while still offering a flattering fit, while ponchos are top choices for transitional weather when you don't necessarily need full protection from the elements. Go for a layered look by teaming a light black poncho over a simple yet stylish white top, such as our White Everyday Crew Neck T-Shirt.
Ski Trend
Skiwear is big news whether you're hitting the slopes or not, so knitted tops are in style and a perfect addition to the fashionable layered look. Knitwear is hot news once again this year, and there is plenty of opportunity to create a smooth and flattering silhouette. Figure-skimming knitted tops are a fashion must-have to show off your curves in a way that can also hide areas that you might be less confident about. Knitwear can sometimes feel bulky, but light knitted tops can offer warmth and comfort without adding inches to your shape. Knitted tops are also hugely versatile, offering a great textural contrast with everything from PVC skirts to denims.
Faux Fur
This also nods to the apres-ski trend, and keeping warm does not have to mean looking like you're wearing a duvet. Faux fur embellishments can lift the simplest of tops, adding texture without unflattering bulk. If you're feeling bold, go for an animal print version to really bring the look right up to date.
Cut-outs
Cut-out tops are big news, whether you're looking at the runways or the latest Instagram posts. Designers such as Mugler, MGSM, and Dion Lee have all gone with these homages to body positivity, prompting women around the country to feel confident enough to show some skin in a fresh and flirty way. The beauty of these tops is that they don't have to be confined to your summer wardrobe, either. Try a cut-out top with a mini skirt, print tights and knee boots for a perfect autumnal look.
Pop of Color
Follow in the footsteps of Versace's FW21 collection and inject some color in your life. Bright tops are in full swing, whether you choose to go with one bold choice or go all out with a multicolor option such as our Women's Tie Dye Crew Neck T-Shirt. If you're not sure about going so bright, know that you will be following the trend set by monsters of fashion such as Prada, Rodarte, Moschino and many more.
Go Green
If you're not sure which to choose when it comes to the rainbow of colors on offer, go for a green top to add another trend to your fashion repertoire. Green was a runway favorite and offers lots of options, from a great holiday alternative to the little black dress to a super versatile green tee such as our Green Everyday Crew Neck T-Shirt. There are also shades of green to suit all colorings. Choose from shades like mint, olive, neon, or fresh grass, and if you really want to play with the trend, think about a monochrome ensemble as shown off on the runways by Salvatore Ferragamo and Kenzo.
Start to sparkle
Glitter is in style, as you might expect at this time of year, and sparkly tops are hugely versatile options that offer a great alternative to the typical holiday dress. You can also choose how much sparkle you want to show, from a subtle glitter logo to a sequined camisole or glitter-fabric cold shoulder creation.