Shawn Posted on October 15 2021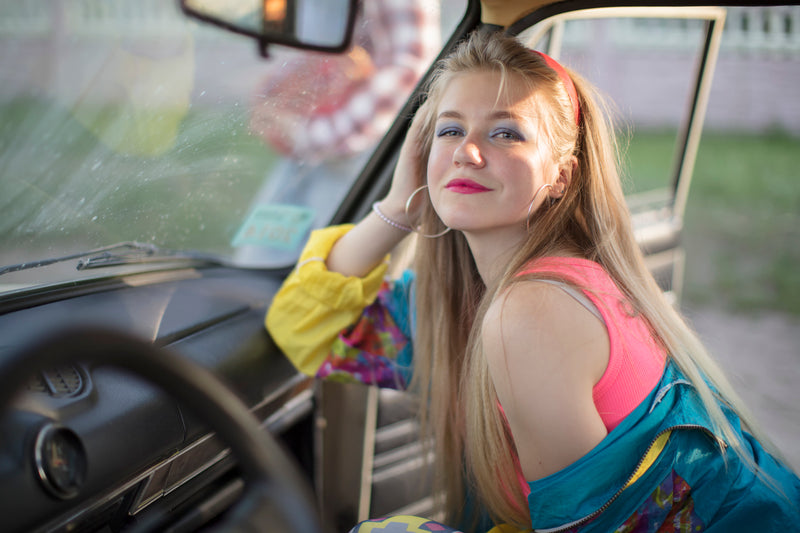 Women's Fashion in the '90s
It is often said that in fashion, everything comes back around. Right now, it's the turn of the '90s. Chances are you won't have failed to notice that '90s fashions have been making a big comeback. From chokers and bucket hats to denim overalls, crop tops and low-rise jeans, it's all been seen on the fashion elite and influencers of late. But how do you find the right balance between nostalgia and style? The key is to take some of the most symbolic '90s trends and mix them with today's styles and silhouettes to bring the look up to date.
What was women's fashion like in the '90s?
'90s fashion was heavily influenced by the music and television trends of the decade. Belly-button-baring acts like Britney Spears, No Doubt and TLC were topping the charts, the "Rachel from Friends" was the haircut of the decade, and the Spice Girls introduced the world to girl power - and platform sneakers. Grungy looks with baggy low-rise jeans were hot, but so was the cute and preppy style of Cher Horowitz in Clueless. Overall, '90s fashions were bold and rebellious, baggy and oversized, with bright patterns, metallics and a big emphasis on several key accessories.
Here are five big trends of the '90s - and how to wear them today.
1. Tie-dye
Bright and sometimes garish prints were big news in the '90s. The decade took the psychedelic patterns of the 1970s and gave it a new twist. Tie-dye was used on everything from backwards baseball caps to oversized shirts. Fun and youthful, tie-dye is one '90s trend that has enjoyed a big comeback, thanks in part to the Covid pandemic. One of the best things about tie-dye is that you can totally do it yourself. So, while we were all stuck inside looking for ways to fill our time, tie-dye emerged as a great way to pass a few hours, nail a trend and revamp some old closet favorites. For today's tie-dye, anything goes. This Women's Tie Dye Crew Neck T-Shirt is a bold take on the trend, while this Burke Blue Women's Tie Dye Crew Neck T-Shirt shows it doesn't have to be rainbow hues to catch the eye.
2. Crop tops
Crop tops teamed with low-rise pants were a huge trend for women in the '90s. Championed by trendsetters like Britney Spears, Gwen Stefani and Christina Aguilera, the navel-flashing trend was one of the key looks of the decade. Today, crop tops are big news again, though this time not so much with low-rise jeans or track pants. Try them with high-waisted jeans and pants for a more subtle take on the trend, or ditch the jeans entirely and opt for a classy pencil skirt, relaxed joggers, or another big '90s comeback trend - biker shorts - instead. You can also try something different from the usual skimpy crop top or tube top by opting for a cropped hoodie, such as the Heather Grey Crop Hoodie.
3. Plaid flannel shirts
Plaid flannel shirts were a '90s favorite for creating a grungy look, styled up with baggy flared jeans, chunky Doc Martens and a bucket hat. Plaid shirts are big news again now, but it's the silhouette that's changed. There are still the bucket hats and the Doc Martens, but the plaid shirts are now open and worn as "shackets" with a sleeker pair of pants such as skinny jeans, faux leather pants or even biker shorts.
4. Chokers
Chokers were quite possibly the hottest accessory of the '90s. Stretchy, tight and often adorned with beads and jewels, the choker was the decade's edgier jewelry of choice. Today's chokers are slightly more sophisticated, a departure from the harsh black plastic tattooed styles of the '90s. Opt for delicate gold chokers for a more subtle, grown-up look, choose a leather choker, or use a choker as part of a layered-up necklace look.
5. Bomber jackets
The late '80s saw the release of hit films Top Gun and Ferris Bueller's Day Off, both of which paid homage to the bomber jacket. Although the bomber jacket had been around for decades, it enjoyed a resurgence in the '90s. Bomber jackets are back in fashion again, not only in a nod to the '90s but as part of the popular athleisure trend of the past year. Wear it with joggers or biker shorts, a crop top and a cap to update it. This Black Women's Bomber Jacket is a versatile take on the trend.